VODAFONE
Riding 5G for Vodafone
Our Expertise
Marketable Innovation
Experience Design
Vodafone, a mobile operator and a technology leader in the Czech Republic, asked us to help them prepare some fun experience communicating 5G technology for the Vodafone Zone at 2022 Karlovy Vary International Film Festival. And the solution was a 5G RC car race.
Challenge
The 5G technology arrival was accompanied with a lot of conspiracy theories, but only few people really knew what it is and what are the advances – those weren't as noticeable as headlines about cancer and bee killing.
Vodafone wanted to change that and demonstrate the benefits – low latency and high transfer speed, to the public in a way that will be simple and engaging. And bring it to their Vodafone Zone at the Karlovy Vary International Film Festival.
Our Approach
What is all about speed and latency? Car races! And how to connect them with 5G technology, engage the public and make it super fun? RC car races!
And so the idea to build a racing track with 5G-powered RC cars was born.
Solution
This was something really different from our daily tasks, which usually consist of digital solutions. This was about building a real thing. And it was very exciting!
Considering all available options we decided to go with a 1/10 scale RC car, which is big and powerful enough to carry a phone and other required hardware. We replaced the original receiver inside by a mini computer running the custom application which was controlling the steering servo and speed control unit.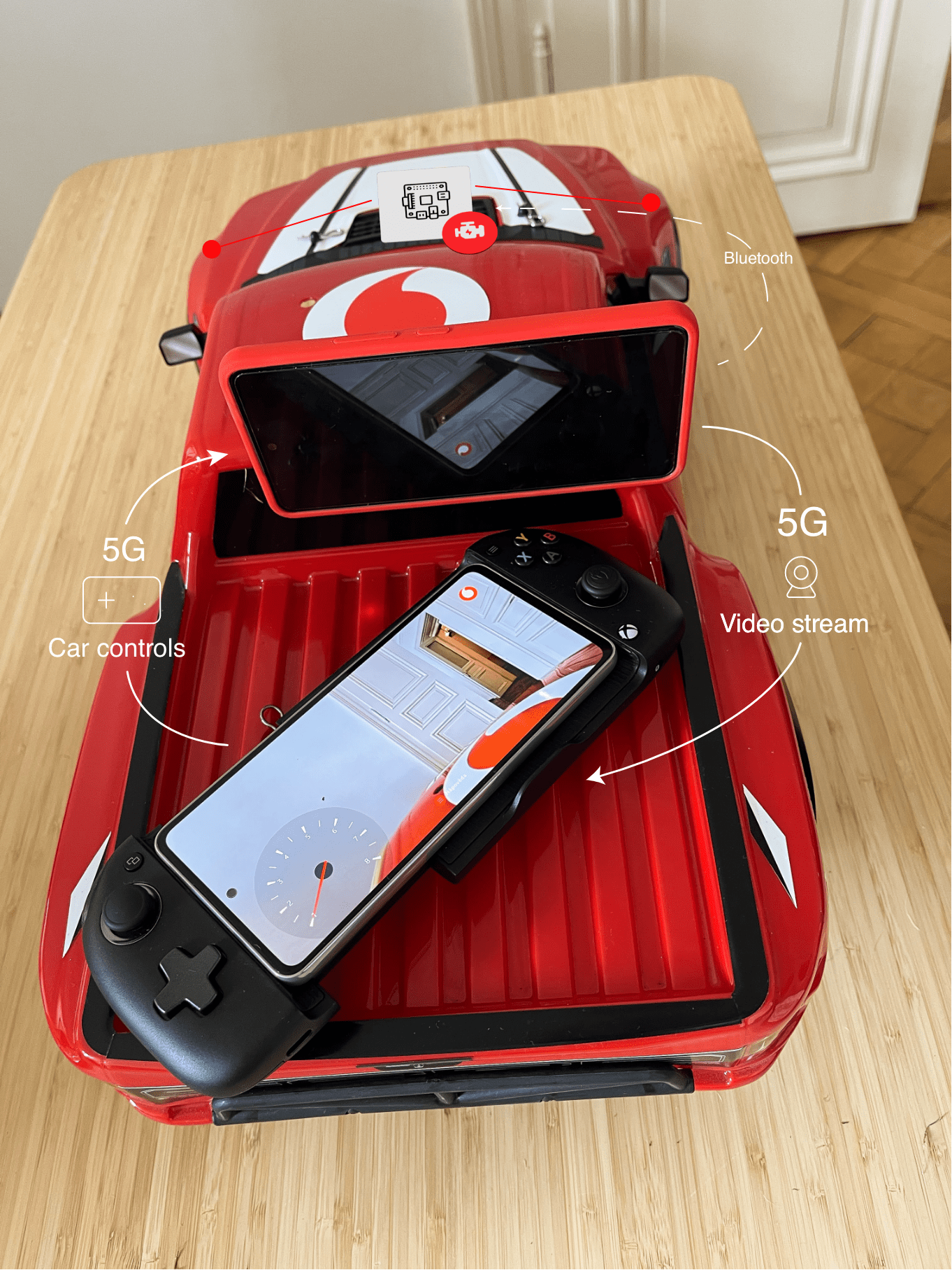 The essential parts attached to the car hood were the ultrawide camera of the 5G phone that was transmitting the track via video stream.
For this phone we developed a native Android application with two main functionalities:
Encoding and sending video stream to the controller phone.
Receiving controls data from the controller phone and forwarding them to the mini computer.
We replaced the original remote with another 5G phone for which we developed a custom app as well – its main functionality was to decode and display the video stream received from the car phone and send back the control commands.
The main communication between phones (controller and car phones) was handled by WebRTC (Real-time communication for the web) which added real-time communication capabilities to our applications by allowing direct peer-to-peer connection. Our apps utilised one video channel for car camera stream in HD quality and a data channel for sending steer and speed commands.
After a few rounds of testing (racing the cars around our office) we were finally ready to go to the racing track in Karlovy Vary to set up the cars and phones there.
Impact
5G Car racing was a huge hit during the festival, and the results were more than satisfactory
The public network had 300% more traffic during the KVIFF
Over 11 000 people have attended the Vodafone Zone
Our little race cars drove for more than 90 km of distance
We received 700 000+ social media impressions in just 7 days
The 5G RC experience was so powerful and awesome that Vodafone decided not to limit it to KVIFF, but showcase it at other events and festivals that year as well.