AUSOME
Ausome: How we turned saving in gold from old-school to real cool
Our Expertise
Marketable Innovation
Business Growth
Market entering & Scaling up
Experience Design
Product Development

We built a fresh fintech brand called Ausome with a modern mobile app which aims to make saving money in real gold effortless and fun.
Market insight and challenge
Everybody knows they are supposed to save money for rainy days, but not everyone is capable of doing so. It requires strong will and discipline. Not to mention, traditional saving instruments such as saving accounts do not make the process easier. They don't provide desirable outcomes and barely cover inflation.
More advanced and modern options like investment platforms and mutual funds do exist, but they are not very accessible or easy to use, and what's more, they are taxingly time-consuming.
And then there is the oldest method in the book – saving in gold. For many centuries, it was the most attractive and reliable investment asset that helped people protect their money and secure their future. But when it comes to ways how to save money, this method doesn't cross a lot of young people's minds.
Why? Maybe because the current process of purchasing physical gold hasn't been improved in decades. It often relies on financial advisors, face-to-face meetings and plenty of paperwork.
To the Labmobile!
We took this insight and brought it to our client – a company that for more than 20 years held the leading position on the gold market; helping customers save in gold and making them less dependent on political and economic situations.
Despite their long-term success and a solid base of recurring customers, they felt the need to grow even more and future-proof their business. They wanted to enter new markets and most importantly, attract new, younger and more digital-native customers.

Our approach
We decided to shake the traditional gold business by developing and launching a simple, yet fun mobile app that will be appealing to young people and help them to save in gold with minimum effort.
Combining 20 years of the client's market experience with our business growth & innovation framework, we rapidly iterated to a clear product vision, unique selling proposition, business model, go-to-market and user acquisition strategy – to turn the concept into a real and profitable business.
Considering the profile of the potential customers, we realized that the existing brand of the client appeared too serious and old-fashioned to be able to attract a new generation of gold enthusiasts.
With this in mind, we've decided to create a completely new brand and product that reflects our aspiration and innovative approach while still building trust with the users.
Rapid prototyping helped us create an intuitive digital experience, with a unique mobile application in the heart of it, and turn money-saving into an effortless and fun process that is tailored to the user's way of living.
Our client was a part of the core team from the very beginning until the public MVP launch. They brought their deep market expertise, participated in design and brainstorming sessions, tested and feedbacked the new product releases that were delivered every two weeks.
This is how Ausome was born – a fresh, cool brand and mobile app for customers who are more comfortable in the digital world, rather than the company of financial advisors and paper contracts.

The brand
Based on the conducted research, we've put in place the strategy of the new brand and defined its positioning, visuals and communication language across all the touchpoints.
This newly created brand was then incorporated into every aspect of the solution – from how the application looks, to how it communicates via ads, e-mails or packages with physical gold delivered to the users.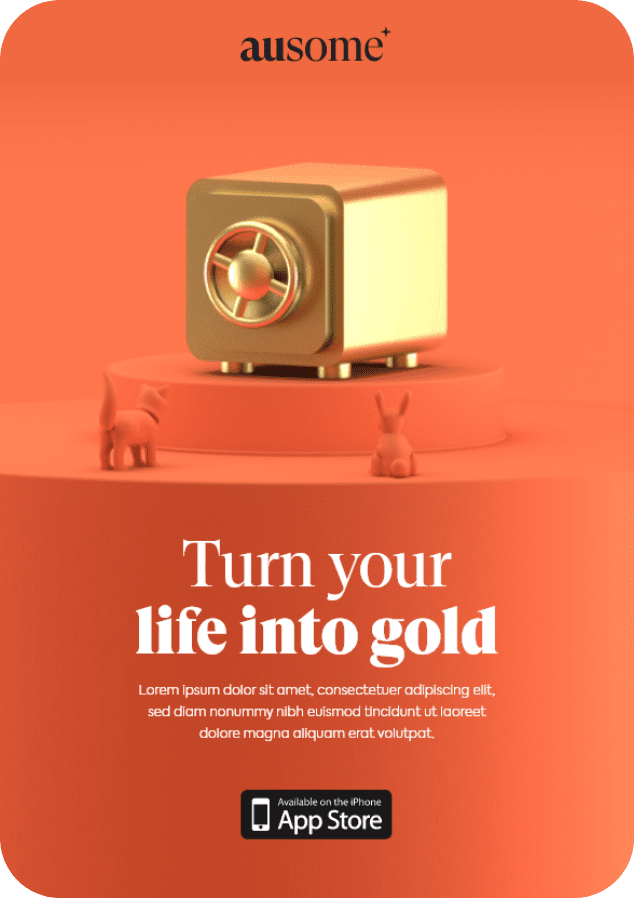 The mobile app
In less than a year, we've developed and launched Ausome – an iOS and Android mobile app utilizing the benefits of open banking to the maximum. The mobile app was designed to make it easy and fun for users to save money by simply living their normal, everyday life.
The savings were planned to be done through microtransactions that were coming from the user's bank account, connected via PDS2 APIs. Microtransactions were triggered by various saving plans that users can activate within the app.
Saving plans are the heart of Ausome, they allow users to make regular savings that are not just entertaining, but also highly relevant to their lifestyle. Plans were created to react to the user's daily activities such as dining at restaurants, grocery shopping. But if preferred, even the amount of rain that falls down in the city triggers savings. These plans allowed users to adjust their saving behaviour to what's currently going on in their life.
All the money transferred by the saving plans were designed to automatically turn into physical gold, reserved for the user and stored in their gold account.
Yes, you read correctly – Physical gold. Compared to many other apps, Ausome was indeed created to provide users with real gold of the finest quality, backed by internationally recognized certificates.
Saving mechanics were set up in a way that the users may request their gold or its monetary equivalent anytime they want and Ausome delivers it to their door.

Promotion and user acquisition
After building the MVP version of the product and creating the brand assets, our team's next challenges were mobile marketing and user acquisition.
For the pilot launch of the Ausome app on German and Austrian markets, we've prepared communication assets, focusing on a few of our product's USPs – the fact that Ausome is providing physical gold to users and its unique saving plans.
We've carefully crafted the media strategy for user acquisition to validate the present target audience and test various acquisition channels. Our team was in charge of advertising production, media placement and also optimization, which allowed us to build a user base during MVP on both iOS and Android platforms and adjust the user needs based on the direct feedback.